New Version of WP Word Count Released on WordPress.org
A new version of WP Word Count, version 3.0.0, has been released today on the WordPress.org Plugin Directory. You can download this free version of WP Word Count to install on your own WordPress site here: https://wordpress.org/plugins/wp-word-count
What's New in 3.0.0
The entire WP Word Count interface has been adjusted to improve performance on site's with large amounts of content. Each tab of the interface is its own individual screen now to cut down on the amount of data that has to be loaded when you first view the WP Word Count statistics dashboard.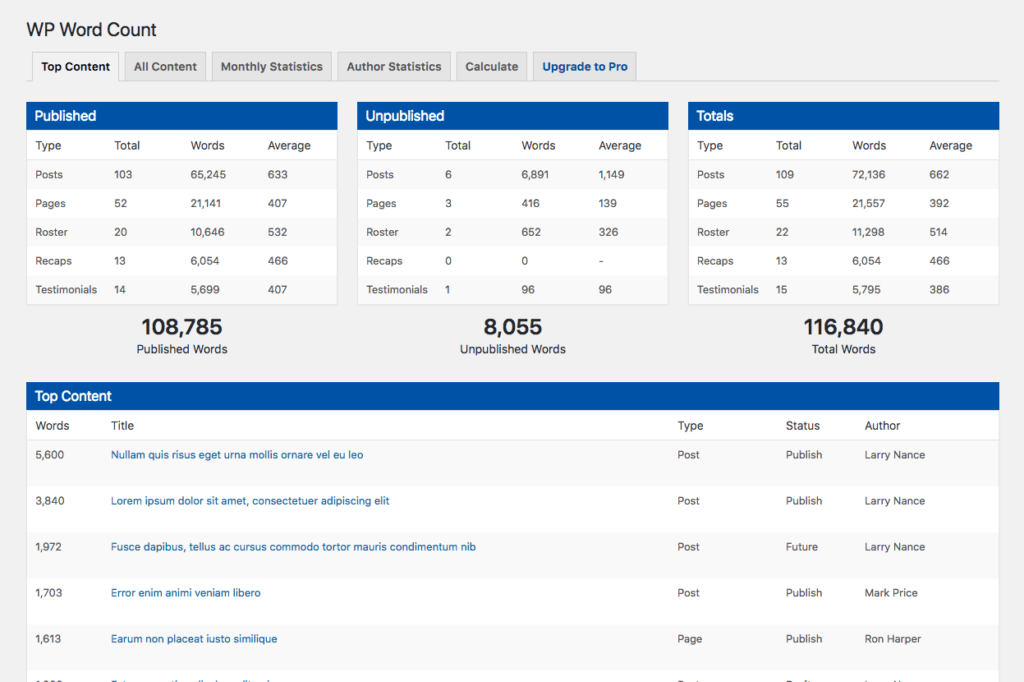 A new tab has been added that allows you to calculate the word counts on your entire site's content with the click of a single button. This is the new method for getting your word count statistics after installing the plugin.
The previous way, which involved calculating all word counts immediately after the plugin was activated, proved to be too memory consuming for large sites on low-cost hosting. This change will hopefully result in fewer errors that were difficult to correct without intervention from a hosting provider.
In addition to the cosmetic changes above, 3.0.0 includes support for Scheduled Posts, the Thrive Content Builder and contains several smaller bug fixes throughout the plugin.
WP Word Count and it's upgraded Pro version are now being used by over 5,000 WordPress-powered websites. Thank you to everyone who has tried the plugin and given feedback and support with each release.