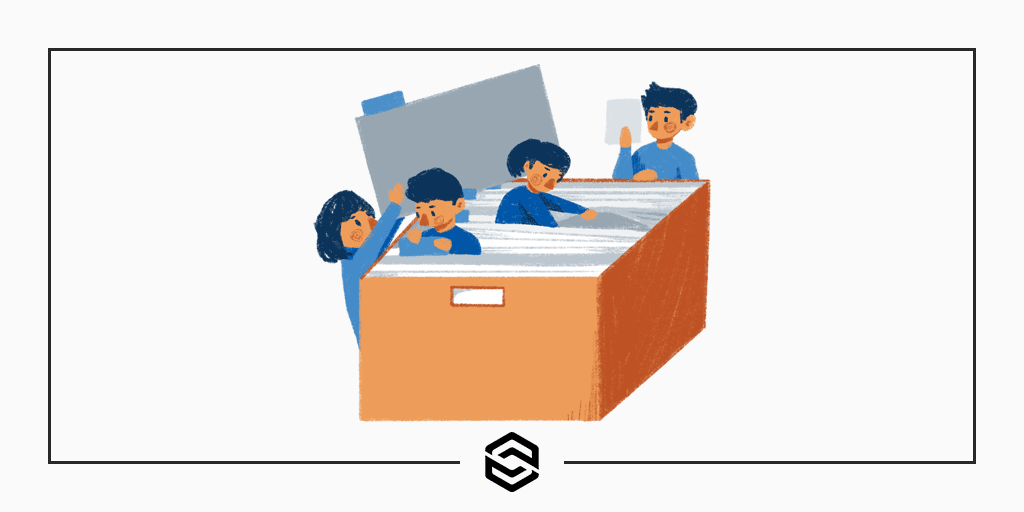 EDRMS: Does Your Company Need an Electronic Document and Records Management System
Last Updated January 31, 2022 · Custom Software
An Electronic Document and Records Management System, or EDRMS, is a specialized form of content management. An EDRM is for specifically managing documents and records. Organizations of all sizes can use an EDRM to manage their documents through the various phases of a document's life. This life cycle varies from place to place but usually entails the creation, editing, reviewing, and publishing of documentation. These systems allow for the secure retrieval and searching of documents.
Let's talk more about the value of an EDRMS and what I can bring to your organization. We'll discuss the benefits of using an EDRMS. Then we'll go over what solutions exist on the market, or via custom software, to give your business the right system for your needs.
---
The Benefits of an EDRMS
A proper EDRMS will offer your business and team many benefits. So many companies manage important documents in a haphazard way. You don't want to improperly store contracts, diagrams, blueprints, and other key document-based resources.
Ultimately, this all leads to improved efficiency for your business and team. Anything that can make the workday better is worth investigating and an EDRMS is no different.
Let's go over some of the key ways an electronic document and records management system can improve your day-to-day life.
Improved Document Accessibility
One of the great upsides of an EDRMS is that it makes your document easily accessible. Documents get lost. This is true if they are paper or digital. People regularly misplace important documents on their desk, in their email, or buried somewhere on a computer's hard drive. An EDRMS will allow everyone on your staff to have a single place to store and retrieve important materials.
A quality system will not only store your documents but make them easy to discover. High-quality search, document filtering, and other clever tricks will make finding what you need simple. You'll no longer have to search through email attachments. The days of asking a co-worker where an important contract is stored will be gone. The best EDRMS tools on the market will make searching and finding documents a breeze.
Better Internal Communications
The best EDRMS solutions include ways to keep staff members updated on document changes. When a document is updated or removed, you can have the system notify key team members automatically. Features like automatic notifications keep everyone on the same page. You'll no longer have to manage communication across email, text, or Slack as a document is revised. Everyone who needs to know will find out immediately without any manual interaction.
Communication breakdowns and confusion are leading causes of daily mistakes at any business. The more tools you have to cut down on mistakes the better. Even the most simple of EDRMS solutions will improve your internal communications. Your staff will thank you for making it easier for them to do their daily work and keep their documents straightened out and updated.
Increased Document Security
A properly built EDRMS has security in mind from the very beginning. At a basic level, just moving your important files into one place is a form of security. This is true whether you are converting from paper documents to digital or simply organizing digital items in a single interface. Keeping everything coalesced and better organized is a simple way to improve the security of important files.
Of course, simply taking your documents from a haphazard filing system to an organized and digital one isn't enough. Security is not only about how you store things but also who has access to them. A good EDRMS will allow you to set a variety of permissions on a per-document basis. This will prevent just anyone in your organization from viewing any document they want. Your team will have individual logins so they can only access the system safely. Limit what certain employees can see, and even do, to certain documents. This will help keep things safe and free of mistakes.
Many companies know that security is important but few actually follow through correctly. Consider an EDRMS if you need to manage and keep important documents safe.
---
The Best EDRMS Solutions
There are an overwhelming number of EDRMS software solutions on the market today. Many offer the same features, with slight variations, and similar pricing. Of course, there are other avenues to take as well. You might want to consider building your own custom EDRMS that fits your precise requirements.
The Best EDRMS Software on the Market
There are three well-recommended systems you can sign up and start using today: M-Files and Box.
M-Files is featured packed and built to suit many very popular industries. They support accounting, tax, and audit firms. Construction, manufacturing, and financial services work well with their software as well. Of course, supporting so many industries comes at a price. In fact, M-Files is one of those software solutions that won't openly tell you their price without scheduling a demo. Various reports have the price of M-Files at around $60/month per user. For a large team, the price of M-Files can grow quite quickly.
Box has many of the features of M-Files but at a lower price. In fact, you can start their cheapest plan at approximately $20/month per user. They offer limited uploads but unlimited storage at all pricing levels. The higher plans offer more features including expensive to maintain on your own things like HIPAA compliance. No matter the plan though Box is more affordable than M-Files. In fact, the highest Box plan is still roughly half of what M-Files charges.
Build Your Own Custom EDRMS
Did you know that custom software is an affordable option for practically every business system? Our specialty here is creating custom software solutions for any sized business. Fortunately, an EDRMS is no different. The two off-the-shelf solutions we've covered here are either expensive, have features you don't need, or suffer from both issues.
You can have a custom software solution built to perfectly fit your needs at an affordable cost. The upfront expense of custom software is always higher than an existing solution. Fortunately, over time, you can offset that expense by saving on the high monthly and per-user fees you avoid with pre-made software. Custom software systems aren't for everyone but consider it as a valid option and you may be surprised.
---
Interested in Learning More About EDRMS Options?
In conclusion, the right EDRMS can change your business for the better right away. Do you think an EDRMS will help organize your business? At Link Software, we've built many custom software systems and would love to help you create your own electronic document and records management system. Contact us today with any questions you might have and we would be happy to help.