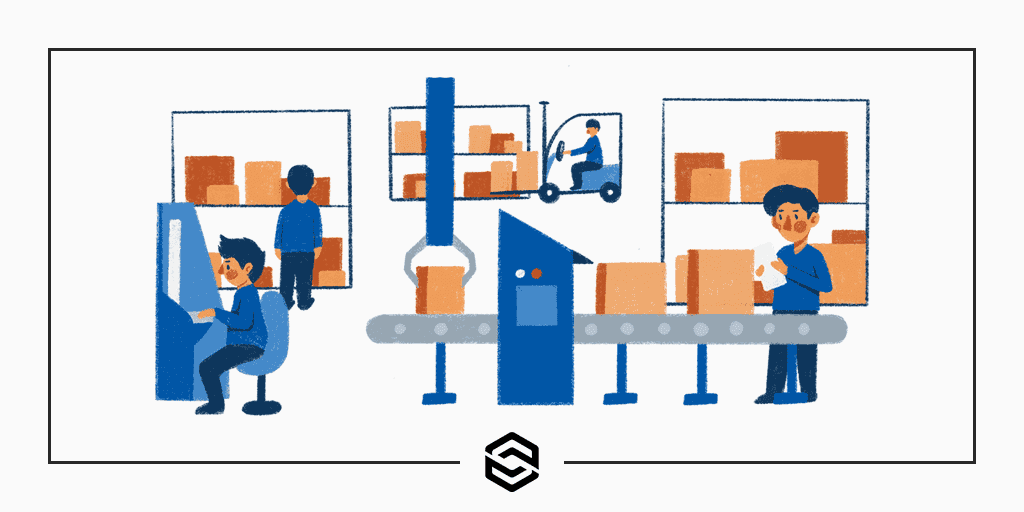 How to Use a Production Tracking System to Improve Your Manufacturing
Last Updated January 21st, 2022 · Custom Software
Successful businesses rely on information to make better decisions. If you're manually collecting data, you've probably had issues with timeliness and accuracy. It can make the entire effort feel meaningless. A production tracking system can help automate data collection and reporting to deliver accurate, real-time insights to improve your business.
Production tracking software can provide real-time visibility into your production and identify opportunities to optimize performance over time. Let's take a look at production tracking and the benefits that it can unlock for your business.
---
What is a Production Tracking System?
A production tracking system is similar to order tracking—but for internal processes. For example, suppose that you run a commercial printing company. Order tracking might have different statuses for "pending, "in process" and "shipped" orders. Of course, under the surface, there might be many other internally significant steps in the production process.
The internal production process might include:
Collection of design elements.
Production of the printed products.
Bindery operations that put it into final form.
Shipping that involves packaging and freight.
The nuances of these steps aren't always necessary for customers, but they could be very meaningful to internal stakeholders. By tracking internal processes, you can gain real-time visibility into production and generate meaningful analytics. You can also identify problematic vendors, calculate average production times, and much more, depending on your needs.
More sophisticated production tracking includes machine-level data collection for manufacturers. For example, a controller on a packaging machine might send alerts to production tracking software. Those alerts can record instances of downtime along with the reasons, such as no operator, roll replacements, bin wait times, clean up, or other issues.
---
Features & Benefits to Consider
A production tracking system helps you manage all of your orders in production, deliver on-time to customers and constantly improve your internal processes. In addition, production tracking software can help you with planning. You can reduce inventory levels, improve lead times and become a leaner and more capital efficient operation.
For example, using our printing example, you might use production tracking software to measure the quality of the printing press. If a printing press should be able to print 100 pages per minute, but the software records 25,000 pages during a 7-hour shift. The machine is operating at just 74% efficiency. This would indicate a potential problem area.
These benefits of production tracking software fall into three categories:
Operational Benefits: Production tracking dashboards can provide real-time visibility into production, prioritize orders to achieve on-time delivery, measure labor utilization, and identify bottlenecks before they grow into bigger problems.
Financial Benefits: Production tracking software can help you understand marginal costs throughout the production process and create accountability throughout the organization with data-backed decisions.
Information Technology Benefits: Production tracking software can integrate with other IT systems to provide insightful data or automate processes. For example, you might integrate with a vendor's API to automate parts of the production process.
A production tracking system may also be able to integrate with other existing software solutions that you're using. This can include enterprise resource planning (ERP) software. For example, you could feed production levels into ERP solutions to optimize inventory calculations. Or keep sufficient numbers of spare parts on hand without unnecessarily tying up capital.
---
Why Use Custom Software?
There are several off-the-shelf solutions for production tracking, but there are some important caveats to consider before choosing them.
Production tracking software requires a great deal of flexibility since different businesses want to track different processes. For example, an aerospace manufacturing company will have very different requirements than a printing business. These differences mean that universal software solutions often require extensive customization.
Custom software is built specifically for your business, so you don't have to worry about workarounds or extensive customizations. You can specify what processes you want to track and the information that you need and receive a custom-built dashboard. You can also customize integrations with the specific machines and software solutions that you use.
Link Software specializes in building all kinds of enterprise solutions, from order tracking to production tracking to customer relationship management. By incorporating the features you need and working with the technologies you already have, our solutions are designed to be both efficient and cost-effective compared to off-the-shelf software.
---
Beyond Production Tracking Software
A production tracking system is just one component of a larger software suite that most businesses require. For example, a manufacturing business will likely require enterprise resource management (ERP) software to manage parts from vendors. They will need customer relationship management (CRM) to manage sales. Finally, accounting software to run their books is often necessary.
It's possible to manage these processes with a complicated collection of spreadsheets, emails, and documents. To make life easier a fully integrated system can streamline all of your processes and ensure that you're maximizing time. It can also prevent data loss issues, security risks, and other problems that can arise from using disparate third-party tools.
Many large enterprise software providers, such as Oracle or Microsoft, provide end-to-end solutions. For example, Microsoft Dynamics 365 combines sales, marketing, service, finance, operations, and human resources. Unfortunately, the pricing and complexity of these solutions can be intimidating to small businesses with limited requirements.
Custom software solutions can help turn a makeshift collection of spreadsheets, emails, and documents into an easy-to-use system that's uniquely tailored to fit your business. You don't need to worry about hiring enterprise solutions experts or paying high recurring licensing fees—you build only what you need and host it where you need it.
---
The Bottom Line
Successful businesses use data to spot problems and improve over time. With production tracking software, you can monitor everything from the real-time status of an order within a production process to the effectiveness of an individual employee to the quality of products coming out of one machine compared to another machine. If you're looking for a production tracking solution for your business, contact us for a free consultation. Link Software can help you discover why a custom solution might be the right fit.