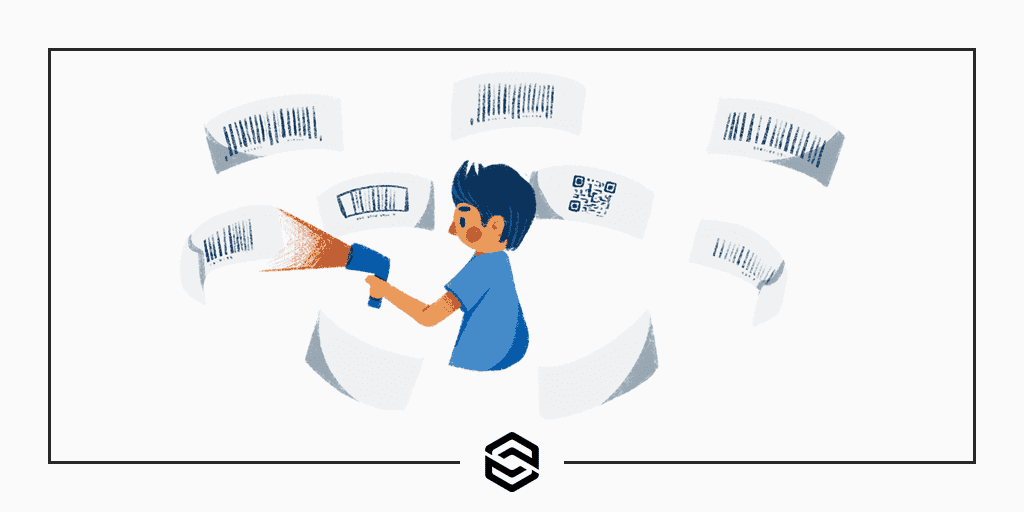 The Best Bulk Barcode Generator For Your Business
Last Updated January 21st, 2022 · Custom Software
Barcodes are a common sight in today's world. They are on practically every item you see in retail settings, in warehouses, and in production environments. A barcode is an easy and standardized way to handle tracking and storing data about an item. Making barcodes is predominantly a task handled by your business' point of sale or inventory management software. Occasionally, you might need to create a large number of barcodes at one time. Or, maybe, the software you currently use doesn't create barcodes at all. In that case, a bulk barcode generator is a tool you will desperately need. Fortunately, there are a lot of options to choose from on the market.
At Link Software, barcodes and barcode generation are common requirements for our clients. After dealing with barcodes for so many years, we decided it was time to sit down and write a definitive guide on generating barcodes in bulk.
We'll walk you quickly through the various types of barcodes. Then we'll review the most popular online tools for generating barcodes. Finally, we'll discuss your options when your current software or the bulk tools don't meet your business needs.
---
The Common Types of Barcodes
You might be surprised to discover that there are approximately 30 different types of barcodes. Not all of them are very popular but each serves its own special purpose. We aren't going to bore you with descriptions of all 30 today. We will, however, briefly explain and give examples of the most common.
UPC
The Universal Product Code (UPS) is typically a 12-digit barcode used in retail settings. It's most commonly used in point of sale systems. On occasion, retailers will use UPC barcodes for products sold only in their own stores or locations.

EAN
European Article Number (EAN) is normally a 13-digit barcode that, like UPC, is commonly used for retail products. There is a variation called EAN-8 that, as you might have guessed, only contains 8-digits and is for small packages and products.

QR
Quick Response (QR) code is a two-dimensional barcode that has risen in popularity over the last decade. The reason for that popularity is because QR codes can be used to store a lot of information in a quick-to-read format.

ITF
Interleaves 2 of 5 (ITF) barcodes most often appear on 35mm film. You might also see them on the cartons of products but that usage is not as common. In the film industry, ITF is used to denote manufacturer, exposure count, and more.

Code 39
Code 39 is an alpha-numeric barcode. It supports 43 characters and is considered "self-checking." This means it does not contain a check digit like its Code 128 cousin does. One huge drawback of Code 39 is its low density, as you can see from our example.
Code 128
Code 128 is a high-density, alpha-numeric barcode that supports all 128 characters of ASCII. This is, in our experience, the most popular and common choice for barcodes. Code 128 is what we use for all of our internal barcode-based projects for clients.

All of the bulk barcode generator tools we're about to cover support these common types. In fact, many of them support subsets of the above and other uncommon barcode types as well. You should be able to create the kind of barcode you want no matter what your specific need is.
---
The Best Online Bulk Barcode Generator Tools
There are quite a few barcode generators online. We've gone through and put together a list of what we consider the best. Of course, none of these generators are perfect. Each of them has its own set of issues. We've done our best to point out the pros and cons of each bulk barcode generator so you can decide which one is best for you.
Barcodez.net lets you create barcodes of all the common types in bulk pretty easily. It even supports some lesser-used types like ISBN. One of the better features of this site is the barcode customization it offers. You can set the barcode's height, scale, color, and background color.
If we had to offer criticism it would be that actually downloading all of the barcodes is cumbersome. After you enter in your data for the barcodes you have to download each one individually. There's no compressed file or way to download them all at once time. There is also no way to upload a CSV file or Excel spreadsheet with data. Everything must be typed by hand or copy and pasted from another application.
Final Verdict
Barcodez.net is a good option if you need barcodes in a pinch. It is especially useful if you want to adjust the design of your barcodes with little effort. The lack of an import feature probably rules it out as an option for users with frequent barcode needs.
Features
The barcode generated by MobileDemand has a crisp, clean, and easy-to-use interface. That's a rare combination on this list and immediately sets this apart from the rest. This site supports the most common barcode types: EAN-13, EAN-8, UPC-A, QR, IT, Code 39, and Code 128. You should have no problems generating the type of barcode you need.
It's hard to find fault with this barcode generator. You can enter data in bulk, and even print in bulk, with a nicely formatted PDF. The PDF is laid out to work with common Avery label sheets as well. The only drawback of the MobileDemand site is you can't upload barcode data as a CSV file. There are no customization options which, while unfortunate, isn't uncommon with free products such as this.
Final Verdict
This is our recommended online-only solution for bulk barcode generation. The interface is clean and not at all confusing like some of its competitors. The types of barcodes supported, while not vast, is enough for the majority of business needs.
Features
Download
Individual & Bulk
The barcode generator at Free-Barcode.com is fairly limited for most use cases. Its main purpose is as a promotional site for a more fully-featured desktop application. The online option offers over 30 different barcode types. This is the most of any solution mentioned we cover in this post. It has some nice customization features including size and font (for a label).
The desktop application has some features that don't appear on the online version. You can import data from a spreadsheet file, it supports printing on Avery labels, and it has a barcode sequence generator. These are all important features that are practical for most business purposes and applications.
Final Verdict
The web version of the Free-Barcode generator isn't great. The output is very limited: you only get individual image files you must download straight from the browser. The site is more of an advertisement for a desktop application than a useful tool on its own. If you prefer a desktop solution, and the extra features are worth it to you, consider checking their downloadable application out.
Features
This is an entry in our list that is quite different from the rest. The Barcode Generator for Excel, from the POSGuys, actually takes an Excel spreadsheet and inserts barcodes directly into the file itself. Simply upload your Excel file, choose what column you want to be converted into barcodes, and let the site do its work. You'll get back a new version of your Excel file with the barcodes added in automatically.
Final Verdict
The purpose of this online tool is so specific that we can't recommend it to everyone. It's so focused on Excel that it immediately eliminates large portions of the barcode needing audience. But, if Excel is your main work environment, this is certainly something to investigate on your own. Please consider the security ramifications of uploading any file to a site you don't own or trust.
Features
Barcode-Generator.de is the final option on our list. It offers a simple data entry method, supports multiple pieces of data, and provides limited customization. There is support for 11 barcode types. Unfortunately, some popular ones, like QR, are not available for you to use.
The best part of this site is the download options. You can get your barcodes as individual graphic files (PNG, GIF, or JPG), in a single PDF, in a compressed ZIP file, or as part of an Excel spreadsheet. Those are the most download options of any of the online-only barcode solutions we covered here.
Final Verdict
The download/export choices of this site set it apart from the others. Its interface is simple enough and the customization is good enough for most projects. Fair warning, some parts of the interface are in German so you might need some translation help if you run into issues.
Features
Download
Individual and Bulk
---
Custom Bulk Barcode Generator Solutions
The applications above will most likely meet the basic needs of most businesses. Those of you reading this that only occasionally need bulk barcodes should be able to get by with any of those options. Or, if you do frequently need large amounts of barcodes, as long as your design needs are simple any of those choices will do. But what do you do when your needs are more specific? How can you save time, use a bulk barcode generator, and still get exactly the output you need?
When Is Custom Barcode Software Right For You?
Custom software is something most businesses don't consider. People fear the costs, or perceived risks, of using bespoke software inside of their company. Those concerns have merit but are often overblown. For instances like this, when you need something uncommon like custom-formatted bulk barcodes, a custom software solution is perfect. You can save time and spare yourself and your staff frustration with custom barcode software.
In our experience, many of our clients require special barcode applications. Some need elaborate inventory stickers with embedded barcodes. Others need barcodes generated and printed for them automatically based on incoming orders. The reasons are endless but the solution is always the same: a custom piece of software. Off-the-shelf systems and applications, like the ones we went through above often fall short. You can get 80% of the way to what you need but it's that last 20% that will slow you down and cost you money and test your patience.
What Can Custom Barcode Software Do?
Once you consider the option of custom barcode software it's important to know what you can accomplish. We have written software that generates barcodes automatically based on incoming data. Many of our custom inventory systems are built on barcodes to track and locate SKUs in physical locations. You can even create your own barcode solution that prints out custom-designed stickers for use in your buildings and plants.
The key ingredient in all of those custom barcode solutions is automation. Creating your own barcodes, in bulk, with any of the generators in this post is a slow, manual process. Custom software allows for the creation of barcodes, in large quantities, without user input or delays. Removing humans from the process is one of the biggest wins in terms of productivity that you can make in your business. A custom barcode generator makes that possible.
In essence, the answer to the question of what custom barcode software can do is: anything. The beauty of custom software, for barcodes or any other business request, is you decide what it can and can't do. Take control of your day-to-day operations and how you interact with barcodes by building your own barcoding solution.
---
Want to Learn More About a Custom Bulk Barcode Generator?
At Link Software, we've written dozens of custom software applications. Our systems support businesses of all shapes and sizes and many include barcode support. Frustrated with your current barcode solution? Looking for a starting point? We can point you in the right direction. Our experience covers bulk barcode creation, handheld barcode scanners, and barcode tracking and reading software. Contact us today for more information.