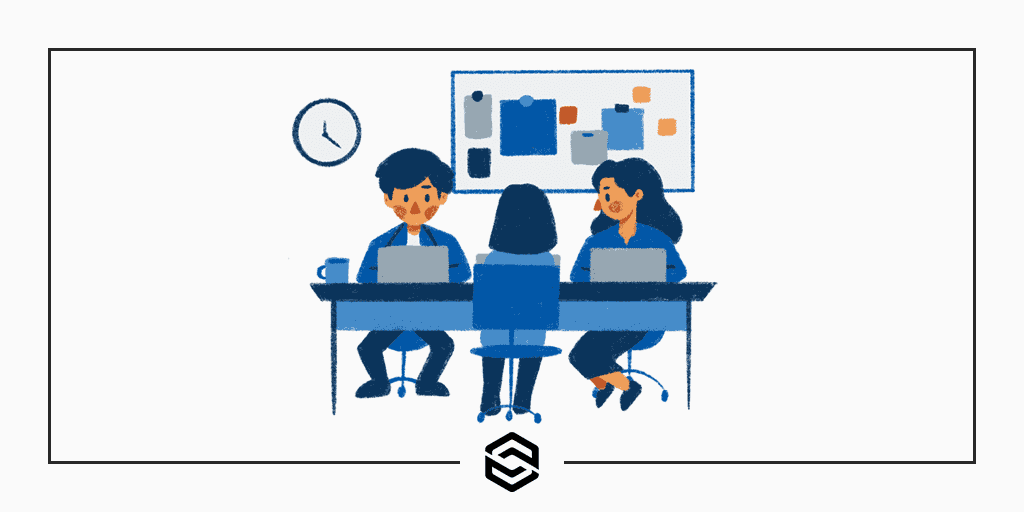 How Custom Project Management Software Can Streamline Your Business
Last Updated January 21st, 2022 · Custom Software
Project management software is a part of practically every business on the planet. Every company, regardless of its size, needs some way to keep its employees and projects organized. The software market is flooded with hundreds of project management options. Usually, a business will find one that is adequate for their needs and deal with features that don't work. Custom project management software, which creates a system built exactly for a business and its employees, is an option few consider. Business owners have concerns about the costs of paying for custom software and the time it takes to develop. They choose to stick with cheaper, but not entirely useful, off-the-shelf software for their project management needs.
At Link Software, we have built dozens of custom project management software projects for clients in manufacturing and professional services. We're going to spend some time in this article showing you how custom project management systems can streamline your business. Custom project management software helps your unique business stay organized. It helps employees do their jobs better. Finally, it keeps your customers happier with improved communication and productivity on their requests.
Read on to learn how a custom project management tool can be built just for your business. The benefits to your day-to-day operations can be immense and make off-the-shelf software seems obsolete and wasteful by comparison.
---
Custom Project Management Software Keeps Your Unique Business Organized
When you use pre-packaged software you are locking yourself into a set way of doing things. Most software developers design applications to be generic. The goal of the company producing the system is to sell it to as many customers as possible. Software companies achieve this when their feature set is simple enough to meet the basic needs of most companies. Unfortunately, as businesses grow or have complicated work processes, the common project management software solutions out there become more work to use and maintain.
Unique businesses need unique software. You can have a custom project management system made to perfectly match how your company operates. It can accommodate your day-to-day procedures, projects, and special-use cases in ways that normal project management software can't. You can have your very own project management system built to improve how you organize information, communicate with staff, and ultimately serve your customers. All while avoiding the arduous process of forcing an existing project management tool to fit your setup.
There are things to know before going custom, of course. Costs are involved. They can oftentimes, at least initially, be higher than regular systems. In the long run, a well-developed system can be cheaper than the outrageous monthly fees most project management solutions charge. In addition to cost, the development time can take a while as well. Both of these factors, cost and time, are also the reason custom project management tools are so perfect for your business. The extra price and effort involved in their making guarantees you get exactly the system you need.
---
Increase Employee Performance with Custom Project Management Software
How many hours in a year do your employees waste struggling with software? So many people sit at their desks, screaming in frustration, as they fight with project management software. Where does certain information your company needs go in the interface? How do you make sure your special manufacturing procedures are completed? What does your team need to do next to complete their urgent tasks?
When employees become angry and annoyed with their software they begin to work outside of that system. This is how you end up with team members exchanging important information and documents over email. Or they build out complicated spreadsheets for themselves to keep organized. Sometimes, in the worst cases, you'll find your employees are keeping their work together through a series of written notes all over their desks. This is what happens when off-the-shelf project management software breaks apart.
Custom project management systems help alleviate all of this frustration and confusion. By building a set of features to suit your business, you can improve your team's performance every day. The frustration and unwillingness to use project management software that isn't working will be replaced. Now, with a custom system, your staff will be better able to accomplish their work goals and make your customers happy.
---
Improve Communication with Clients by Using Custom Project Management Software
Finally, building your own custom project management tool means you control client communication better. When you make your own system you can decide how clients and customers are kept up-to-date. You can trigger automatic emails under certain conditions. You can give your clients access to only certain types of data and restrict their access to other information. The possibilities are endless when begin making custom software for your business.
Keeping customers and clients caught up and in the know about their projects is the first key to success. People with years of experience in professional services know this to be true. The benefit of custom project management is that you dictate the terms and means of that client communication. You don't have to work around the limitations of pre-existing software or hook together a handful of third-party applications to get the result you want. Custom software means you are in control and you decide how to handle client communication. Your business will dramatically improve its efficiency and customer approval levels when this is the case.
---
Interested in Learning More?
In conclusion, custom project management software is one of the many software development services we offer our clients at Link Software. We have years of experience building the kinds of project management tools your business needs to succeed. From internal tools to customer-facing information portals, we have worked on dozens of project management systems for our clients.
Would you like to learn more about organizing your business? Contact us today. Tell us a bit about your company and what you would like to accomplish with your own custom project management solution. We would be happy to learn more about your business and offer some suggestions.