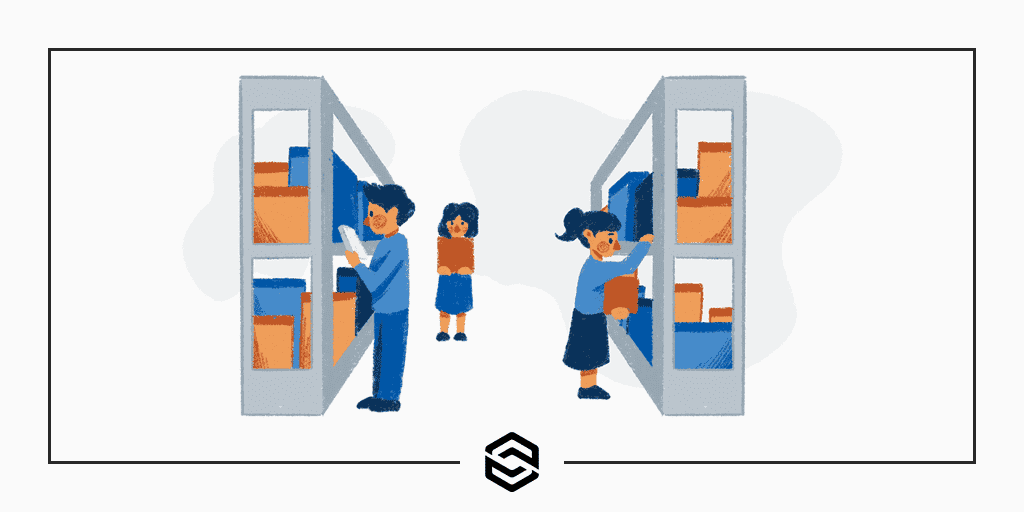 Pick the Right Stock Control System for Your Business
Last Updated January 21st, 2022 · Custom Software
Keeping track of inventory is one of the most important practices a successful business can do. It can be nearly impossible to properly manage supplies, orders, and customer support without proper stock control. Of course, there is a multitude of options when it comes to selecting a stock control system. Picking the right stock control system for your business is a delicate process that, if done correctly, can save you untold time and trouble in your day-to-day operations.
Let's talk about inventory control systems, the best systems for different businesses, and ways you can roll your own solution to perfectly match your business and its needs.
---
What Exactly is a Stock Control System?
A stock control system also referred to as an inventory control system, is a way for a business to track physical items needed for orders or production. A high-quality system will touch all aspects of a business. So any time an order is placed, a vendor delivers fresh stock, staff need to make changes to quantities, or entire product lines need to be removed and replaced. The right stock control system for your business will make handling all of those duties, and more, simple and quick.
Of course, for this to all happen seamlessly the need for software is required. You can try and build an inventory system with pen and paper. Even now, in these modern computing times, there are still old-fashioned businesses doing just that. The problem is that manual systems are breeding grounds for errors and problems. No one who is serious about proper stock control would ever keep tabs of everything on a piece of paper anymore.
So what is the best software solution? Again, some companies with less modern business practices might be using spreadsheets or simple desktop databases. Unfortunately, these types of efforts quickly fall into the same problems pen and paper systems have. Errors stack up, maintenance becomes an issue, and your inventory levels and orders become entangled in bad data.
Let's consider the best options for two types of businesses built on inventory: stores and manufacturing.
---
Finding the Perfect Stock Control System for a Store
Stores need to properly manage inventory to make sure their shelves (physical or virtual) are always stocked with products. Keeping track of this can be difficult but there are plenty of software solutions to make it easier.
Retail Store Inventory Control Software
Almost any serious, physical business will have a point of sale (POS) system in place. There are dozens of reasons to run your store on a POS system. Many point of sale systems are attached to cash registers so the entire purchasing process can be digitized. Once you have put every part of a transaction into a digitized system keeping track of inventory becomes a breeze. Each sale, or return, will correct your inventory levels accordingly. High-quality POS systems will generate inventory reports for you so you can know exactly when it's time to order more products.
Shopify Inventory Control Apps
Shopify, one of the world's premier hosted e-commerce platforms, has a vary broad and packed app system in place. You can add a variety of apps to your Shopify store that can handle all sorts of things. This is true then, of course, for stock control systems as well. There are dozens and dozens of apps on the Shopify App Store for inventory control.
We recommend you check out these three specifically.
Stock&Buy
Stock&Buy offers inventory management right inside of your Shopify interface. It handles the management of purchase orders, refunds and returns, and includes in-depth inventory reporting. This app lets you manage your inventory across multiple stores. You can sync your data with the popular Xero accounting software as well.
Shopventory
This Shopify app integrates with many popular POS systems including Shopify POS. It offers reporting for purchasing and inventory. Speaking of purchasing, it can also automate purchase orders for you. This app also integrates across multiple stores as well if you need that functionality.
SKULabs
Finally, the last Shopify app we recommend investigating, is SKULabs. This all offers standard inventory management features. It also has order picking and packing functionality. It also has a lot of features to help you with purchasing. The monthly price of SKULabs is high but it does have quite a few valuable features.
WooCommerce Inventory Control Plugins
WooCommerce is the #1 self-hosted e-commerce store solution. It's a plugin that works with the popular WordPress content management system. WooCommerce has basic inventory functionality in the base plugin. Of course, you can extend that functionality with third-party programs. As with Shopify, WooCommerce has plenty of inventory management plugins to choose from.
Check out these two WooCommerce stock management plugins:
Veeqo
The most powerful part of Veeqo is that you can use it to sync inventory across multiple software packages. If your business relies on a lot of different software this is an attractive feature. This plugin also features warehouse management functionality which is useful for pickers and packers.
ATUM Inventory Management
This free plugin, available on the WordPress.org repository, has too many features to list here. The plugin developers claim it is the best inventory plugin for WooCommerce and they might be right. There are premiumd add-ons, a common practice with WordPress plugins, to extend the plugin even further.
---
Picking a Stock Control System for Manufacturing Facilities
Inventory control systems aren't just for retail outlets and online stores. Keeping proper track of materials and finished goods is incredibly important in a production environment as well. In fact, many manufacturing facilities have stock management needs that are even more complicated than many big-box retail stores.
Inventory Control for Production Materials
The materials needed to build finished goods can vary greatly from facility to facility. The importance of knowing exactly how much of any given material you have though is a universal need. The number of unique production materials worth tracking can be as small as a few dozen up to hundreds and hundreds of pieces. The larger the number of materials the more elaborate a stock control solution a facility needs.
We have seen spreadsheets used for tracking production materials many times. Truth be told, in many cases, this is enough for small to medium-sized manufacturers. Typically, the purchasing manager maintains this list and uses it to decide if and when to order more materials. For larger facilities, with more elaborate software setups, much of this can be automated as production is tracked. Fancier software solutions will subtract raw material counts as finished products come off the line.
Inventory Control for Finished Pieces
Monitoring and recording the number of finished products made each day is vital to a manufacturing business. Not knowing how much useful product you are producing can cause a ripple effect throughout the company. The need for software to successfully track and report back on good, and bad, pieces is very important.
There are many off-the-shelf software packages to handle this. In fact, a lot of robot-driven production facilities will have the recording of good and bad pieces built into their systems. For less advanced manufacturers, a more manual means of tracking finished goods might be required. The best system, regardless of the facility size, will successfully tie into raw material tracking, customer orders, and more.
---
Looking for More Information on a Stock Control System?
Are you interested in learning more about your options for stock control? Our company, Link Software, has been consulting on this topic for many years. In fact, we have written entirely custom inventory control systems for several large manufacturing facilities. Please don't hesitate to contact us with any questions you might have. We would be happy to help you make the right choice for your company.