The Pros of Building a Custom Client Portal
Last Updated December 24th, 2020 · Custom Software

In theory, your client portal should handle just about any transaction involved with a customer. That might include a point of communication about product delivery; a dispute about an order; or a billing issue.
A client portal should be sufficient on its own to provide your customers with critical, detailed information on-demand. It should integrate seamlessly with all other systems and applications you use, without the customer server knowing the difference. It should be relevant to your business – including only the data and features you need, and nothing you don't.
We'll even go so far as to say that a client portal should effectively cut out the need for 99% of back-and-forth communication with your customers.
But in reality, client portals don't usually do that great of a job.
Too often, client portals are clunky and generic, and act more like project management tools than like helpful, detailed points of contact that take the burden of management and communication off both parties.
Click To Tweet
The more complex a business is – such as manufacturing – the less likely a generic client portal will get the job done.
The solution? A custom-built client portal.
A custom client portal will cost you time and money. But the pay-off, in the long run, will be well worth it. You can create a system that will change the way you communicate with clients. It can even transform the way you run your business. Done correctly it will more than cover initial costs in saved time, energy, and increased value.
In this article, we'll take a look at some pros of choosing a custom route for your client portal. And we'll reveal why off-the-shelf solutions typically won't cut it.
---
Custom portals create a better customer experience.
The ultimate goal of a client portal is to create a better experience for the customer.
But if the portal doesn't meet your customers' immediate needs in a clear and efficient way, they're not going to use it. And, they'll continue to call and email you with questions and concerns. This will end up costing both you and your customer in time and energy.
A custom portal, on the other hand, can be designed to perfectly meet the needs of your customers. It can include detailed data and capabilities that help them to take care of themselves.
Here are a couple of specific ways that "custom" can help:
Improved ordering process, especially for businesses that rely on ERP.
A custom-built client portal can be seamlessly integrated with the back-end of your service – no matter what you do or offer, or how many stages are involved in your ordering, manufacturing, shipping and delivery processes.
Ultimately, that means a more streamlined experience for your customer and fewer data entry orders. Their orders integrate cleanly into your system, initiating production and leaving fewer opportunities for "wires to be crossed."
Not only that, but a custom portal can help clients order with more accuracy and consistency. If they're able to view previous orders in detail they're able to make better ordering decisions. This feature is not always available with an off-the-shelf solution.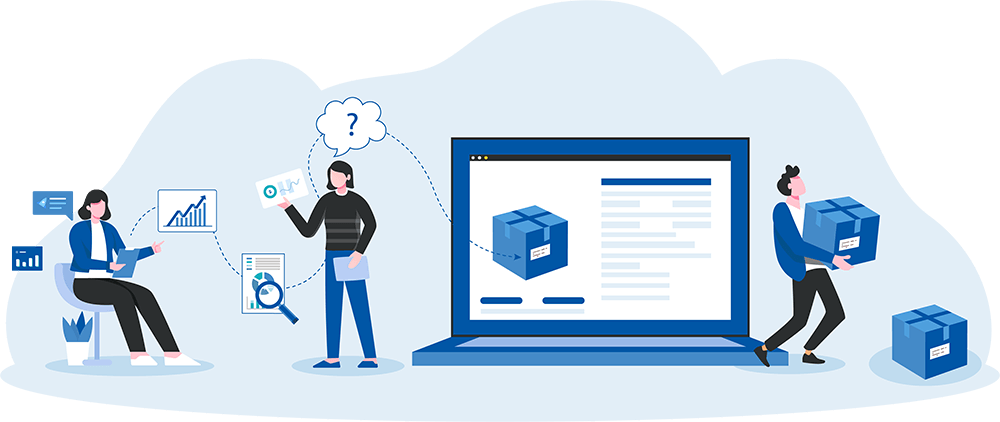 Give your clients detailed information on production (and more).
It may be the case that you sell a product that goes through multiple stages of production. Your clients don't just want to know that their order is being produced; they want to know when and if it's being designed, printed, built, or engineered – and when it will be delivered.
A conventional client portal won't typically give clients a detailed run-down on production, shipping, or delivery. But a custom-built portal can give you the ability to give as many (or as few) details as you'd like on order status. For example, if a client wants to know if their order has been printed, they don't have to call the printer – they can simply check the custom portal.
The result? They save time on making a phone call – and your printer saves time on coordinating with customers.
In the end, a custom client portal empowers customers to take care of their own needs quickly and efficiently. It helps save them (and you) time and energy and creates a better overall experience for your customers.
---
Custom client portals can be integrated and designed to meet the unique needs of your business.
An off-the-shelf client portal may offer a limited degree of integration, via Zapier for example. But it typically can't be tweaked and customized to meet the unique needs of your business that involve other software products.
For example, you may rely heavily on Quickbooks for accounting. A custom client portal can be designed to integrate with Quickbooks so that it actually flags potential issues that arise with accounting – and gives both parties a chance to respond without ever having to send an email or make a phone call.
Let's say there's an expense that doesn't quite add up in a client's history. A custom portal can be designed to automatically identify any potential mistakes or idiosyncrasies in expenses. It can then alert you, providing necessary details and preventing confusion. Instead, the portal can be designed so that the client can address and categorize the expense in question straightaway.
This kind of "handshake" between your client portal and Quickbooks can really be applied to any other software. This gives you an infinite number of ways to create a system that's perfectly customized to the types of communication you might have with your client – whether that's regarding expenses in Quickbooks; file uploads in DropBox; or paperwork regarding payroll.
Finally, this kind of custom integration will help minimize mistakes. If there is an error in data entry or available information, it can always be sourced to user error.
---
Ultimately, custom client portals help you build a stronger, better business.
Let's recap on just a few of the things that a custom client portal can offer:
Gives your clients a powerful tool for ordering and a detailed source of information on order status….
Saves you significant time on communicating with your clients….
Integrates seamlessly with your business, providing customized capabilities for maximum efficiency….
Reduces the number of errors and mistakes.
Is a custom client portal worth it, then?
If you'd like to:
Build a more efficient, streamlined business….
Stop spending hours every week (or every day) on fielding client phone calls and emails….
Create a more customized experience for clients that boosts retention and builds relationship….
Save cash on administrative labor….
And set yourself apart from competitors in your industry….
….then, yes. It's worth it.
Remember, too, that an off-the-shelf solution will most likely cost you an indefinite monthly fee. A custom client portal can be paid for once and used forever. In the long run, the initial expense will most likely pay for itself in several ways. You will save time, increase efficiency, and have happier, more valuable clients. An off-the-shelf solution represents a continued expense, with mediocre results.
---
Are you interested in finding out what a custom client portal can look like for your business? Link Software can partner with you to create a client portal that fits the exact needs and specifications of your business. To discover more about how Link Software can help you build a custom portal for your business, contact us today.