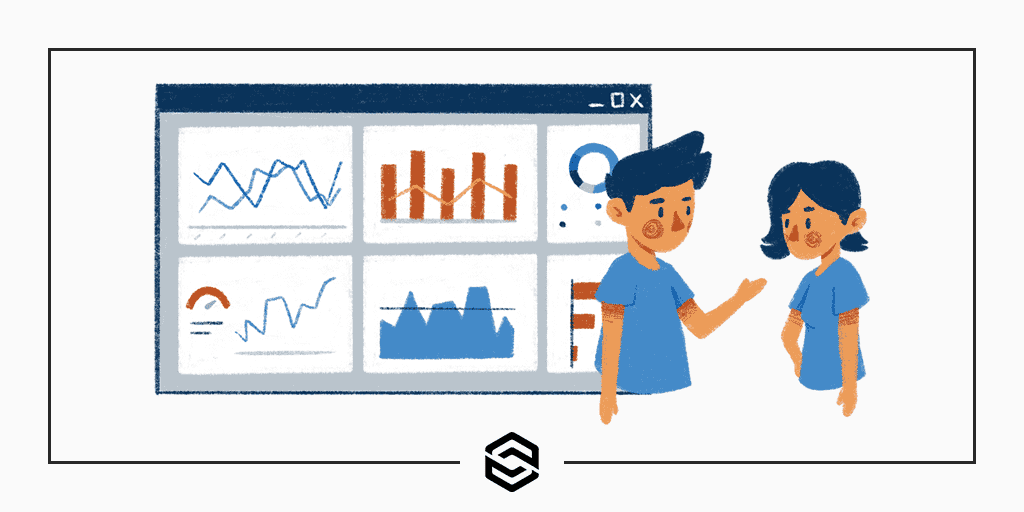 How to Create a Customer Dashboard For Your Business
Last Updated January 21st, 2022 · Custom Software
A customer dashboard is a tool that companies use to monitor important statistics about business in one central location. These dashboards can contain all kinds of data from multiple sources. It's common for the information to originate with different applications, vendors, or even via manual data entry. You often find an application like this referred to as a customer service dashboard as well. This is because it is common for service businesses to use a dashboard to track their response times handling tasks for customers.
Let's take some time to review what important information you need to monitor with a customer dashboard. Then, we'll discuss what you need to look out for when trying to find one for your business. Finally, we want to take some time to review the possibility that a custom-built customer dashboard might be your best approach. At Link Software, we've been building custom software solutions for a long time so this topic is near and dear to us.
---
Important Information to Track on a Customer Dashboard
The best customer dashboard tool is going to offer you key metrics about the most important parts of your business. The right tool will give you quick access to information about your orders and sales. In addition, a customer services dashboard is going to keep you up-to-date on your response times. Finally, any high-quality piece of dashboard software will make sure you understand current customer satisfaction levels.
Orders and Sales
A good customer dashboard service will allow you to collect, and quickly analyze, order, and sales data. Businesses often use dashboards to see how many sales they have made on a given day. This information can be totaled to show revenue, profits, and comparisons over time. Many sales teams like to have a dashboard available to measure their performance throughout the workday. Operations staff find order information useful when planning out their tasks and what individual shifts need to do to meet demand.
Support and Response Times
A customer service dashboard is great when you run a business with a heavy support demand. These dashboards can connect directly to your ticketing system. The connection allows open ticket totals and closing rates to be easily seen at a glance. Managers love a dashboard like this. It helps them keep tabs on how well their teams are handling customer issues. It's important to know what your ticket turnaround times are. Without an understanding of your support speed, you'll have a hard time handling this next topic: customer satisfaction.
Customer Satisfaction
A dashboard system can show you, in near real-time, how your customers are reacting to your products or services. Connect to one of the dozens of popular review systems and pull in feedback automatically. This is an excellent way to monitor good reviews to pass on to your marketing team for highlighting. On the reverse, it's a good way to keep track of poor feedback or reviews. You can handle a customer's poor experience quickly and effectively by identifying it as soon as it occurs. A good support team should have a dashboard in a place that makes spotting trouble a priority.
---
Finding the Best Customer Dashboard Software To Meet Your Needs
There are a lot of off-the-shelf software products for making a customer dashboard. A lot of ink has been spilled online reviewing these different applications. Instead of copying that format, we want to cover three of the main factors you should consider when choosing the right product for you. It's vital to understand the exact features you need, how easy the dashboard is to expand, and whether or not the cost is worth it to your business.
Features You Need
Make sure the customer dashboard software you choose has the features you need. Every dashboard product worth your money has an interactive demo you can try. Get a feel for the program's feature set, its actual dashboard layout, and how it works. It's important that the system you pick has the ability to accurately and easily display the data your staff needs. There is nothing worse than choosing some software and then realizing, too late, that it isn't right for your setup or practices.
Ease of Use and Expandability
A custom dashboard should be simple to set up. You should be able to connect your existing ordering system, CRM, help ticket software, and anything else in minutes. From there, generating the proper reports and data displays on the dashboard itself should also be trivial. You want to be spending your day using the dashboard and not making sure it's connected and working. In addition, it's important that you can add additional data sources at any time. Your business is always changing and so are your data needs. Any new software you use should be simple to incorporate into your customer dashboard at any time.
Cost-Effective Pricing
One of the most common problems with standard software these days is feature bloat. We are biased here because we make custom software but there's no denying this is an industry issue. Software developers need to build products for a wide audience to get the most customers and stay in business. In order to do this, they make software packed full of features for the broadest appeal. Unfortunately, most of their customers only need a small subset of those features. In the end, you end up paying for a bunch of features you don't need.
Now, speaking of custom software…
---
Is a Custom Built Customer Dashboard Right for You?
Custom software, of any kind, can be particularly daunting. Fortunately, customer dashboard software is some of the easiest to build from scratch. Much of the data comes from third-party services with ways to easily extract your information and combine it on a dashboard in unique ways. Let's go over the three important upsides of custom dashboard software: getting the features you need, saving you money, and helping you grow your business.
Get The Functionality You Need
We discussed the importance of having the features you need above. We also discussed that oftentimes you find yourself paying for features you never use. Custom software helps eliminate this issue because you are in control. You have the final say over what your customer dashboard tool can do. You don't have to worry about meeting the demands of over businesses or shareholders. Your company's needs dictate the features you have built for your dashboard.
Save Money Long Term
People commonly believe custom software is expensive. We will admit that the upfront costs are certainly higher than what you pay for regular software. Fortunately, a lot of custom software pays for itself and even can save you money over time. This is possible because you avoid high monthly fees that are common with traditional software applications. Typical software, that charges by the user, can cost hundreds of dollars per month and sometimes even now. With custom software, you own the code so your only regular costs will be maintenance and server fees. These will pale in comparison to what you might pay with a regular software as a service product.
Grow with Your Business
Custom software is easy to expand and improve. You are in control, you own the code, and the servers are yours as well. Adding new features is as simple as dreaming them up and having your developer implement them. You can include support for new data sources, re-arrange or re-work existing sources, and much more. The sky is the limit with custom software and you can use that to your advantage as your business evolves.
---
Customer Dashboards Keep Your Team Informed and Effective
Hopefully, you have a better understanding of how a customer dashboard can help your business. Creating one can be as simple as signing up for a software service you find online. Of course, buyers beware in those scenarios and make sure you get exactly what you need. Consider putting together your own custom solution when the options on the market don't quite match what you are looking for.
Learn More About Building Your Own Customer Dashboard
Are you interested in learning more about building your own customer dashboard? Link Software specializes in building custom software of all kinds for all types of industries. We can help you decide on how best to approach your customer dashboard project. Contact us today with any questions you might have and we'll be glad to assist you.