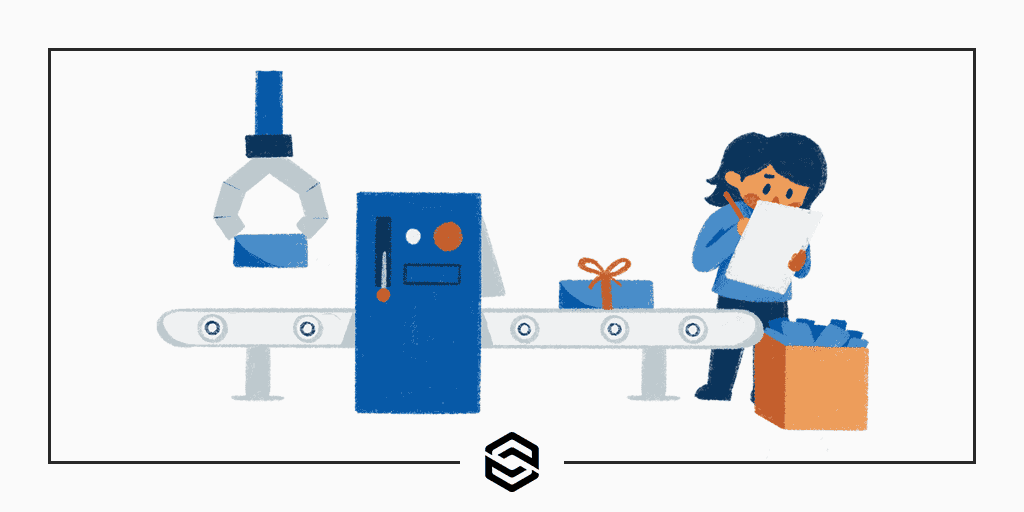 How a Production Tracker Can Keep Staff and Customers Informed
Last Updated January 21st, 2022 · Custom Software
Keeping your customers, and even your employees, informed in a production environment can be difficult. It's not uncommon for manufacturing facilities to maintain multiple systems keeping everyone up-to-date. For some, it's something as simple as a clipboard with a standardized form. Other, larger facilities will have a spreadsheet or Google Doc they use as a production tracker.
At Link Software, we have created several pieces of production tracking software for our clients. Let's take a deeper look at just what a production tracker is. We'll also go over the benefits such a system offers to employees and customers.
---
What Is a Production Tracker?
Fundamentally, a production tracker is a way to find out where an order is in the manufacturing process. For example, your production process might have five stages:
Order Placed
Order Processed
Pre-Planning
Construction
Inspection
Shipped
Delivered
Everything is powered by an identifier. Usually, this is an order number. The production tracker is automatically updated to reflect the current stage. As the process continues, the tracker quickly updates to show how orders are coming along.
By having a centralized place for this information you can improve your day-to-day working processes and communication. Let's talk about that more by examining how you can use a tracking system to benefit your employees and your customers.
---
The Benefits of a Production Tracker for Employees
For internal use, a manufacturing tracking tool can offer great benefits to your staff. In manufacturing, hitting deadlines and getting orders out the door are of paramount importance. Making sure that everyone in your facility is on the same page with each order makes sure you hit production goals.
Clearer Communication Between Departments
A production tracking system lets you improve communications between departments and across your entire company. When order data, and production status, is quickly available on-demand it is next to impossible not to improve day-to-day activity. The number of times your team has to reach out for information will drop dramatically as your tracker keeps everyone informed automatically.
Streamline Data Collection and Delivery
One of the great aspects of custom software is that you can seamlessly connect multiple systems together. A custom tracker will allow you to combine information from all over your systems into one place. If your team is gathering data from multiple spots (your ERP, emails, third-party apps) then a custom solution might be right for you. For example, if you want to monitor order statuses in your ERP and then email support staff automatically at certain points you can do so with a custom tracker. Many ERP applications on the market are inflexible and won't offer these kinds of features out of the box.
---
The Benefits of a Production Tracker for Customers
A way to track your production doesn't have to only be an internal tool. There are good reasons to expose this data to your customers as well. In fact, from our experience, providing production updates to customers is a more popular reason than anything else to make a tracker.
Reduce Customer Support
A huge benefit to a custom production tracking system is to cut down on support. The amount of time dealing with customers' information requests will plummet once you have a tracking system in place. So many of our clients have employees who spend large chunks of their day answering customer update requests. With a custom production tracking application, your customers can look up their order status on their own. You will instantly see a decrease in phone calls and emails from your customers once this information is at their own fingertips.
Impress Customers with Your Own Tools
Giving order information directly to your customers can be seen as an upsell. Many other companies in your industry are unlikely to offer a custom software tool like this. Production tracking, client portals, and other pieces of custom software are a great way to impress potential and current customers. Integrating communications with your customers and clients via a tracking application is common in e-commerce transactions. But for instances where you are selling manufactured goods with long lead times, this sort of tool is still rare. You will definitely stand out from your competition with a production tracker.
---
Building Your Own Production Tracking Solution
What does it take to make your own production tracker at your company? Well, in our experience, most people start with a simple spreadsheet. It's not uncommon for the spreadsheet to be based on an old paper or ledger system a frustrated manager started on their own. A shared drive setup is usually the storage solution for these kinds of spreadsheets. It's not unheard of for these files to be updated by staff emailing the file back and forth. No matter how it is stored it is updated manually as orders go through production.
Needless to say, those techniques are prone to errors, inconvenient, and typically are abandoned in frustration.
A quality production tracker is one that is easy to update and easy to get information out of. Manually updating order statuses is not ideal but if it's made simple enough is a good place to start. What's more common is to integrate with an existing system, like Oracle NetSuite, or a custom ERP application. By connecting to another system, and automatically updating the production tracker, you can cut down on data entry errors and speed up the tracking process for staff and customers.
Of course, finding the right production tracker that integrates with your ERP system isn't easy. Our clients typically come to us because they have order process data available internally but wish to make it available publicly. We provide the glue, so to speak, that brings those two concepts together into one system. Our custom production trackers let manufacturers maintain up-to-date production data. It's a simple matter of presenting that data to their team and buyers seamlessly.
---
Interested in Learning More?
Do you think a production tracker would be useful at your company? Link Software has put together multiple production and order tracking systems over the years. You can learn more from our case studies or contact us directly for more information. We'd be happy to help you discover how a custom production tracker can help your business.