Link Software LLC Acquires WP Terms Popup
September 8, 2018
Link Software LLC has taken over ownership and development responsibilities of the WP Terms Popup plugin for WordPress.
WP Terms Popup presents site visitors with a popup that requires action before allowing users to proceed to the site. Clicking the acceptance button removes the popup and loads the site. Pressing the refusal button sends the user to an alternative URL.
The plugin's most common use is for showing and getting acceptance to a terms of service, hence the plugin's name, but it's also popular for showing privacy policies, age verification requests, welcome messages and more.
The plugin supports multiple popups so you can have one for the front page of your site, another for an interior page and so on. The content of the popups is created and edited through a custom post type which means it is as easy to manage as any blog post or page inside the WordPress admin. The call to action buttons and redirection URLs can be set on a per-popup basis or for all popups across the site.
WP Terms Popup Pro, a paid add-on for the free plugin, gives owners the ability to customize the appearance of the popups. Pro users can change the heading colors, control text alignment and set blur levels for the content behind the popup itself.
Immediate Changes
The first big change for the plugin comes with a total redesign of its logo and marketing site at termsplugin.com. The new site (shown below on the left, with the old design on the right) comes not only with an updated look but fresh content and an improved buying process that now offers the acceptance of credit cards for payment instead of just PayPal.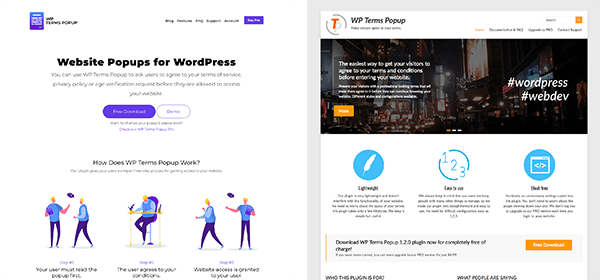 An update for the plugin, version 1.2.1, has been released as well with improved popup display on mobile devices and support for sites who are using any number of popular page building plugins to manage their content.
Coming Soon
The base plugin will remain free and there are many improvements already planned for future releases. Many of these early changes will be focused on improving the plugin's interface and usability.
Future plans for the Pro add-on include a total revamp and rebranding to improve ease of use and to extend the visual customization options available.
Closing Thoughts
Special thanks to the previous owner and the developer of WP Terms Popup for creating such a great WordPress product. The plugin has an active user base that is growing month-to-month because of the quality support and development it has received up to this point.
You can learn more about WP Terms Popup at termsplugin.com and if you are interested in checking out WP Word Count, our WordPress plugin for writers, you can find details at wpwordcount.com.